SIDE A
01  Remember October 13th (Trio), (Martin Wind)  9.02
02  We Will Be Together Again (Solo), (Carl Fischer / Frankie Laine)  6.10
03  Fee Fi Fo Fum (Trio), (Wayne Shorter)  6.31
SIDE B
01  Across The Universe (Solo), (John Lennon / Paul McCartney)  9.02
02  Last Waltz (Trio), (Martin Wind)  6.35
03  Remember October 13th (Solo), (Martin Wind)  10.28
NEW LP RELEASE!

Martin Wind "Remember October 13th"
Martin Wind - Solo and Trio w/ Bill Mays, Matt Wilson

Limited Edition - 500 copies. 180g Audiofile High Quality Pressing
(Edition Longplay, Germany 2012)
 
Martin Wind bass
Trio:
Martin Wind bass
Bill Mays  piano
Matt Wilson  drums
PRODUCED  by Martin Wind
EXECUTIVE PRODUCER  Rainer Haarmann

COVER-ART

Max Neumann
wo.T. | oil and wax on paper
31. October 2011 | 19,5 x 20,2 cm

RECORDED LIVE  30. März | 2010 |Sünnenblink Musikwerkstatt | Bramsche, Germany
SOUND ENGENEER  Heiner Windelband
TRIO TRACKS RECORDED LIVE  6. Oktober | 2000 | Martin Wind, Bill Mays, Matt Wilson | Birds's Eye Jazz Club | Basel. Switzerland
MIXED AND MASTERED  by Martin Wind
For more info or to purchase please visit
www.editionlongplay.com
---
Tracks:

1.Overture 6.54
2.Out in Pa 13.56 
3.The Cruise Blues 8.13 
4. Remember October 13th 13.37 
5. Theresia 18.19 
6. Get it? 9.28 
All composed by Martin Wind
NEW RELEASE!
Martin Wind & The JazzBaltica Jubilee Ensemble: "Theresia"
(Laika Records, Germany 2011)
Martin Wind bass, compositions & arrangements
Niels Lyhne Løkkegard alto sax, clarinet, flute 
Johannes Enders tenor sax, flute
Donny McCaslin tenor sax, flute 
Axel Schlosser trumpet, flugelhorn
Nils Wülker trumpet, flugelhorn 
Karin Hammar trombone
Øyvind Braekke trombone
Christopher Dell vibraphone 
Michael Wollny piano 
Andi Haberl drums
SPECIAL GUESTS
Nils Landgren trombone 
Lars Danielsson cello 
Wolfgang Haffner drums
Excerpts from the liner notes: Martin Wind talks about his composition "Theresia"

" As a composer, there is nothing like hearing a pirce for the first time, after having labored over it for weeks and trying to imagine the sound and feel and atmosphere of it... and when we finally performed the piece at the festival with special guests Nils Landgren, Donny McCaslin and Lars Danielsson it ended up being such a moving, fulfilling, almost overwhelming experience. "
For more info or to purchase please go to
"Recordings"
or
www.laika-records.com
---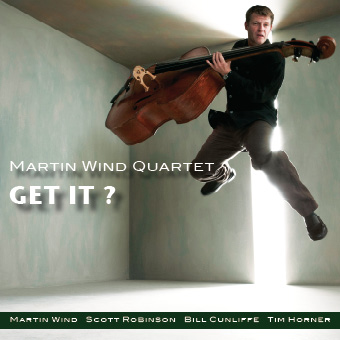 Tracks:
1) Get it? (Wind)
2) Life (Wind)
3) The Plain but Simple Truth (Thompson)
4) Isfahan (Strayhorn)
5) Ten Years (Wind)
6) Laverne (Hill)
7) Can't say no (Wind)
8) Early August (Wind)
9) Rainy River (Wind)
10) Three and One - Live (Jones)
Martin Wind Quartet CD "Get it?"
(Laika Records)
Martin Wind (bass, compositions)
Scott Robinson (tenor sax and trumpet)
Bill Cunliffe (piano)
Tim Horner (drums)
Read the CD review from the December 2010 issue of JazzTimes!
by Bill Milkowski, JazzTimes / December 2010

Bassist-composer Martin Wind leads his working quartet of multi-reedman Scott Robinson, pianist Bill Cunliffe and drummer Tim Horner. Strong chemistry, vibrant interaction and outstanding solos abound throughout the album, which includes some deft tribute pieces: The funky title track is a homage to James Brown; Wind's breezy and affecting "Ten Years" is written for his wife. The bassist premieres his cello playing on the Oscar Pettiford vehicle "The Plain But Simple Truth" and his own lovely "Can't Say No." Other highlights include an exquisite rendition of Billy Strayhorn's "Isfahan", along with inventive takes on Andrew Hill's "Laverne" and Thad Jones' boisterous swinger "Three and One."

Read more reviews of "Get It?"
---
On the last European Tour in the fall of 2009 the  Martin Wind Quartet recorded its new album "Get it?" named after the opening track, a tribute to Soul legend James Brown.  Other selections include Lucky Thompson's "The Plain but Simple Truth" with Wind debuting on cello, Billy Strayhorn's "Isfahan" and an inspired version of Thad Jones' classic "Three and One".  Wind also establishes himself more and more as a prolific songwriter: from the squirmy title track to the always shifting "Life" to the moody "Rainy River", which was originally written for a play of the American Place Theatre...
Excerpts from the liner notes:

"THERE IS NOTHING GREATER THAN PLAYING THE MUSIC YOU LOVE WITH YOUR OWN BAND!!!

This is what I've learned on my last two tours with my first "real" band with Scott, Bill and Timmy. I've been fortunate to have had the experience of being in wonderful bands like the trios of Bill Mays and Dena DeRose, or the different ensembles of Matt Wilson; bands where deep friendship off the bandstand provides unlimited trust and possibilities on stage...
After many hours on the German Autobahn and good meals with excellent cold malt beverages and of course many fun concerts I feel that we have reached that special place of music making with this group of characters - and characters they are?"
For more info or to purchase please go to
"Recordings"
or
www.laika-records.com
---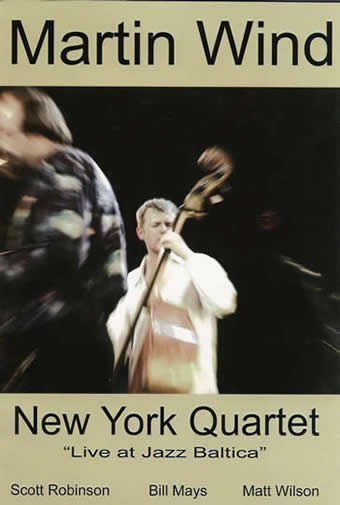 New DVD Release...
"Martin Wind Quartet: Live at Jazz Baltica"!!
Martin Wind (bass, compositions)
Scott Robinson (tenor sax, bass clarinet, echo trumpet)
Bill Mays (piano, fender rhodes)
Tim Horner (drums)
The first time that I appeared at the Jazz Baltica Festival was in the summer of 1997 after winning the first prize at the First Cognac Hennessy/Blue Note Jazz Search with my group "Dreiklang".Since then I have been closely affiliated with this very special festival which happens to be located in my homestate of Schleswig-Holstein in Northern Germany.
Thanks in large to the musical director Rainer Haarmann I have appeared there over the past 12 years with artists like Benny Golson, Pat Metheny, Cedar Walton, Don Friedman, Joe Lovano, Greg Osby, Lee Konitz, Randy Brecker, Gary Smulyan, Bobby Hutcherson, Steven Bernstein, Bill Charlap, the Vanguard Jazz Orchestra and Hank Jones.

In July of 2008 I was finally invited to present my own group on the main stage. The concert was recorded for Public German Televison is now available on DVD.
My New York Quartet features Scott Robinson on tenor sax, bass clarinet and echo cornet, Bill Mays on piano and fender rhodes, and Matt Wilson on drums.
The selections include Classics like "Gone with The Wind", Bill Evans' "Turn out The Stars" and Django Reinhard's "Nuages" as well as Martin's compositions "The Dream",
"Remember October 13th" and "Get it?"

For more info or to purchase please go to "Recordings"
---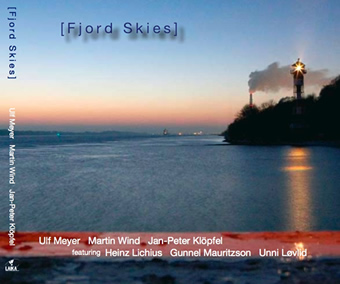 Tracks:
1) My kind of Blues (Meyer)
2) Melanchthon (Meyer)
3)
Fjord Skies
(Wind/Mautizson)
4) Friends Beyond (Meyer)
5) Come, Wind (Loevlid, Arr. Wind)
6) Reflections (Meyer)
7) Glad am I (Meyer/Mauritzson)
8) Hymn (Kloepfel/Mauritzson)
9) I Skovens dybe, stille ro (Trad., Arr. Meyer)
10) Thinking of you (Wind)
11) Ten Years (Wind/Mauritzson)
New CD "Fjord Skies"
(Laika Records)
Ulf Meyer acoustic & electric guitars
Martin Wind bass & cello
Jan-Peter Klöpfel flugelhorn & accordion
Heinz Lichius drums & percussion
Gunnel Mauritzson (S) vocals (# 3, 7, 8, 11)
Unni Løvlid (N) vocals (#5 )
During the first week of 2009 I recorded a new album with my long-time friend and musical partner Ulf Meyer. We were joined by fluegelhornist Jan-Peter Kloepfel and drummer/percussionist Heinz Lichius as well as Swedish Folk Singer Gunnel Mauritzson; Norwegian Singer Unni Loevlid recorded her song "Come, Wind" a couple of weeks later in Oslo.
The album is called "Fjord Skies" and was presented at the Folk Baltica Festival in Flensburg, Germany on April 24 and in Sonderburg, Denmark on April 26, 2009.
Feel free to listen to the title track "Fjord Skies"
(Music by Martin Wind/Lyrics by Gunnel Mauritzson).


For more info or to purchase please go to "Recordings" or www.laika-records.com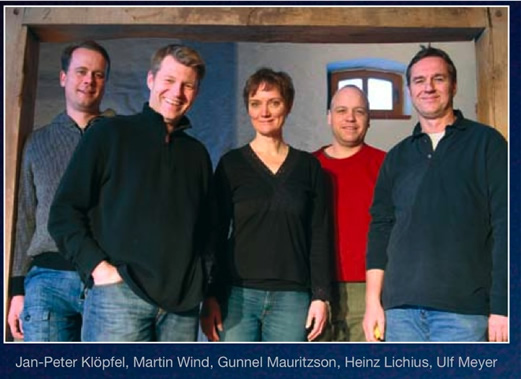 ---